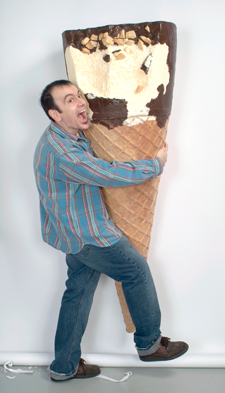 Peter Anton
b. 1963 New Haven, Connecticut, USA
University of Bridgeport, Bridgeport CT

"I activate the hunger people have for the things that give them pleasure and force them to surrender. The sensual nature of the works stimulates basic human needs and desires that generate cravings and passion."

Parallels can be drawn with Peter Anton's works and those of the most celebrated practitioner of Giantism, Claes Oldenburg. While Oldenburg's first food sculpture was deliberately messy and off-putting, Anton seduces with delectable detail.

Peter Anton's work has been featured in solo exhibitions in the United States and abroad. He has participated in group exhibitions in museums and galleries including the Austin Museum of Art in Texas; the Hudson River Museum in Yonkers, New York; the Aldrich Contemporary Art Museum in Ridgefield, Connecticut; the Castellani Art Museum in Niagara, New York; the Elaine Baker Gallery in Boca Raton, Florida; and the COPIA Museum in Napa Valley, California. In addition, he has shown at the Korean International Art Fair, Art Cologne, the Palm Beach Fine Art & Antique Fair, the Venice International Art Fair, the Salzburg World Fine Art Fair and Art Basel Miami Beach. Anton's work is in numerous private, public, and corporate collections including those of the Kemper Museum of Contemporary Art, the Oppenheim Bank, Breitling Watches, Raymond James Financial, Perfetti Van Melle, Sir Howard Stringer, Keith Richards of the Rolling Stones, the Jordanian Royal Family, and Lord Norman Foster.
1 artworks