Total 64 shows, Page:

1

2

3

4

5

6

7

8





Gallery Collection


18 Dec 2010 - 26 Feb 2011






Artists showcased include Andy Warhol, Robert Rauscheberg, Roy Lichtenstein, Keith Haring, David Hockney, James Rosenquist, Ed Ruscha, Thomas Ruff, Gottfried Helnwein, Faile, Chris Levine, Russell Young, Enrique Chagoya, Cake & Neave, Tim Sullivan, Crystal Liu, Joey Piziali, Sarah Harvey, John Westmark, Nerina Lascelles, David Gremard Romero, Vanessa Blaikie, Blake Ward and others.







Gallery Talk: The Rise of the Multiple in 20th Century Artwork


9 Oct 2010 - 9 Oct 2010





Art Historian Gillian Nelson takes a look at the 20th Century trend towards series, editions and prints, from Der Blaue Reiter's re-purposing of the woodblock print to Hirst's serial sharks via Warhol's screen-prints, this talk will cover the history and impact of the multiple in art.

The above talk is part of our arts outreach programme. There is no charge. Reserve a seat by email at events(at)collectors.com.sg







ANDY WARHOL - The Uniques


30 Sep 2010 - 4 Dec 2010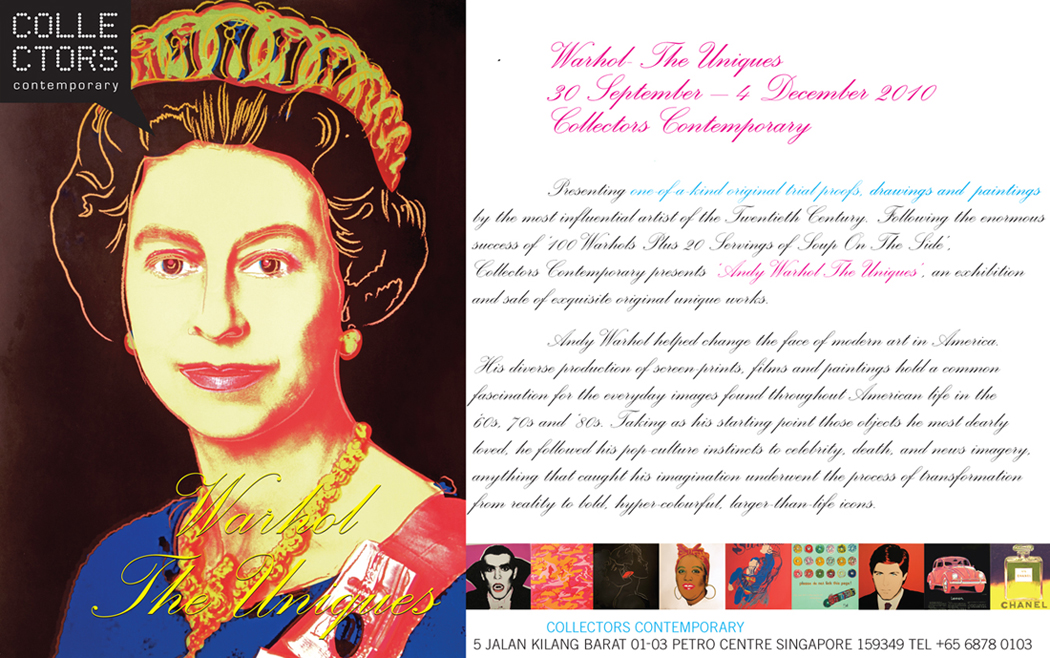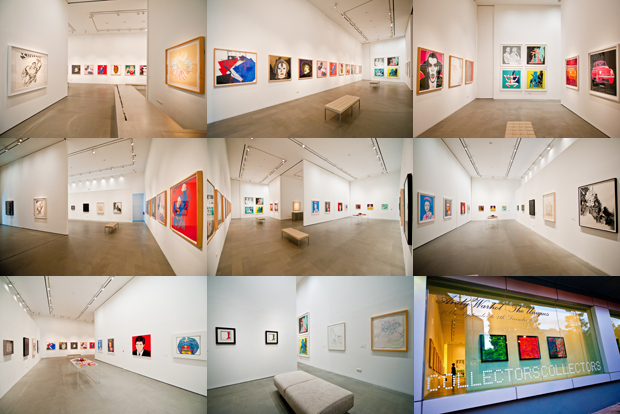 All images © 2010 The Andy Warhol Foundation for the Visual Arts, Inc. / Artists Rights Society (ARS), New York

One of the iconic artists of the 20th Century, Andy Warhol remains at the forefront of modern art both aesthetically and commercially. By helping forge an art movement that was fundamentally beyond the bounds of received art wisdom, Warhol has established himself as a household name, the progenitor of Pop Art and wellspring of a very modern philosophy.

Andy Warhol began his career as a professional artist, and true to his attachment to the everyday, he adapted commercial processes to his own artistic practice, using the screen print to create his famous artworks in series. He played with the received value of the unique, the individual and the isolated, to establish an equal value for his multiples. Some print series would each have a different colour range, with each piece being essentially the same as the one before, but taking a different palette to produce a startlingly different impact.

The multiple screen print is now well established as an art form, due in part to Warhol's innovative practice and popularity - multiple pieces are made of prints, photographs, even occasionally, installation works. The original germ of the idea however, stays with Warhol, and his exploration of the sense of being unique and isolated or being one of a group, and in the crowd. Originally snubbed by the grand old men of the New York art world, he struggled to fit in, before creating his Factory, an environment where everyone had the same feature of being quite different.

Despite Warhol's success at establishing the multiple, and the 'industrial' nature of some of his most famous works, the art market and the collector remains as yet unconvinced that the allure of the rare, the unique, and the hard to find, is over. The dichotomy of his work is that through glorifying the ordinary, it has become one of the most sought-after bodies of work of the 20th Century, regularly fetching record-breaking prices. However, it is still his unique pieces that best capture the aura of the rare and precious - they are seen on the market less frequently and are valued not only for their condition but for their scarcity. In a market consuming Warhol with such a voracious appetite, the unusual stands out more from the crowd.

This exhibition has collected a range of Warhol's work, from the widely seen multiples to the particularly rare single pieces; creating a selection of his most unusual, unmistakable, unique Warhol works. The scarcity of the pieces, alongside their quality, makes this exhibition not-to-be-missed for anyone who is familiar with the public side of Andy, and now wants to get closer to the uncommon man himself.

Key pieces:

Warhol's work retained its commercial edge even as he developed his fine art practice. Included here are a few pieces from his much sought-after Ads series, where small runs of hand-painted or hand-printed pieces were produced.

One of the commissions he took was from Chanel, to promote their iconic Chanel No. 5 perfume, resulting in a short series of rare paintings of acrylic and enamel on canvas. Taking his lead from the 1926-designed flacon, this painting offers a bold outline of the bottle, whilst the perfume itself and the background are filled in with shifting areas of the primary colours blue and yellow. Despite the overtly feminine nature of the scent, the bottle and colours of the painting are neither soft nor dainty, reflecting the confident place Chanel No.5 has held in the public consciousness since Marilyn Monroe, another Warhol icon, declared that she wore nothing in bed except a few drops of the perfume.

Also included in the Ads series are prints of the newly funky Volkswagon. Again not adding to or detracting from the original strong design, Warhol has represented the product using bold colours with contrasting outlines to create a huge visual impact.

Of course no Warhol exhibition would be complete without one of the glamorous women whose faces he transformed from mere beauty to cultural icon. With this show comes the technically masterful Marilyn (Reversal Series) print, whereby the artist has played with perspective using matt and glossy paints. As with everything in life, the image one sees depends on where one stands, creating a play on the surface of the image as well as manipulating the viewer's experience. This piece is also testament to the background Warhol had as a commercial artist - whilst he chose the low-brow techniques for producing much of his artwork, certain pieces embody the integration of skilled draughtsman and modern innovator.

To view artworks, click:





Summer Group Show


29 Jun 2010 - 31 Jul 2010





Works by Daniel Buren, Richard Serra, Jean-Michel Basquiat, Roy Lichtenstein, Robert Rauschenberg, James Rosenquist, David Mach, Norman Mooney and Enrique Chagoya, who is a featured artist at the current Biennale of Sydney.







SPRING 2010


13 May 2010 - 26 Jun 2010





Works by Andy Warhol, Roy Lichtenstein, Chris Levine, Enrique Chagoya, Stephen Gianetti and Joey Piziali







Dirty Pretty Things


4 Mar 2010 - 22 Apr 2010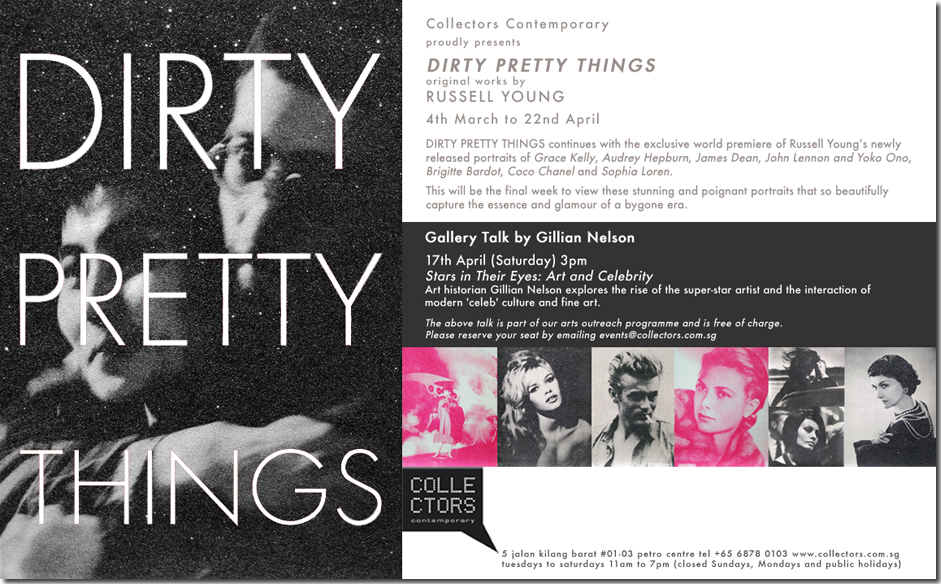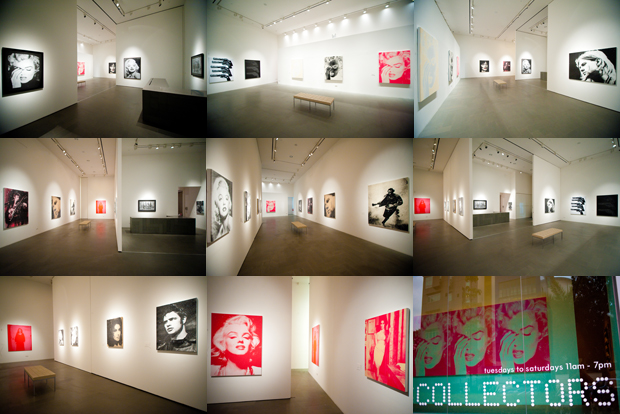 It was 20 years ago that British photographer Russell Young first lent his eye to celebrity culture. The assignment was photographing George Michael for the sleeve of an album called 'Faith'. That job launched a career and soon Russell was shooting musicians like Morrissey, Springsteen, Dylan and many other celebrities. The next natural step was directing music videos; Russell directed a hundred music videos during the heyday of MTV.

In 2003, Young showed his first series of paintings called PIG PORTRAITS. Following this first sold-out show, Young has risen to become an internationally acclaimed pop artist, creating larger-than-life silkscreen paintings of images from history and pop culture.

In Russell Young's newest body of work, Dirty Pretty Things, history's most influential celebrities and luminaries serve as intriguing subjects. Large-scale, diamond dust encrusted portraits of Marilyn Monroe, Elizabeth Taylor, Marlon Brando, Jackie Kennedy, Coco Chanel and Kurt Cobain are undeniably powerful and alluring. Young's use of diamond dust in the painting of these portraits lends a magical glittering effect that imbues the images with an ethereal quality. These images of enthralling characters become the voices of mythological figures from a not-too-distant past, transformed into modern day heroes.

Russell Young has risen to become one of the most collected and sought after artists of our time. Celebrities and collectors from the most discriminating to novice have added Young's works to their collections.





THE URBAN LEGENDS


19 Nov 2009 - 30 Dec 2009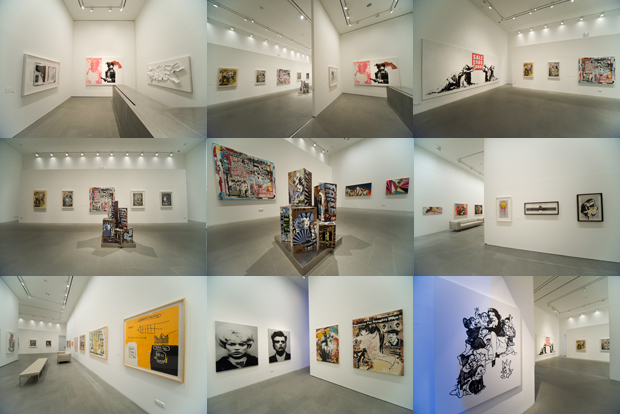 With the evolution of our urban environment, the boundaries of Urban Art are constantly being redefined. Gaining acceptance and recognition as a contemporary art form has led to an explosion in this exciting new genre. Collectors Contemporary is proud to present works by artists who have actively shaped and propelled this to become one of the fastest rising genres.

Featuring works by FAILE, Basquiat, Banksy, Hush, Zeus, Joey Piziali, Chris Levine, Russell Young, John Cake & Darren Neave (a.k.a. The Little Artists).





DAVID GREMARD ROMERO "Los Peregrinos" (The Pilgrims)


1 Oct 2009 - 12 Nov 2009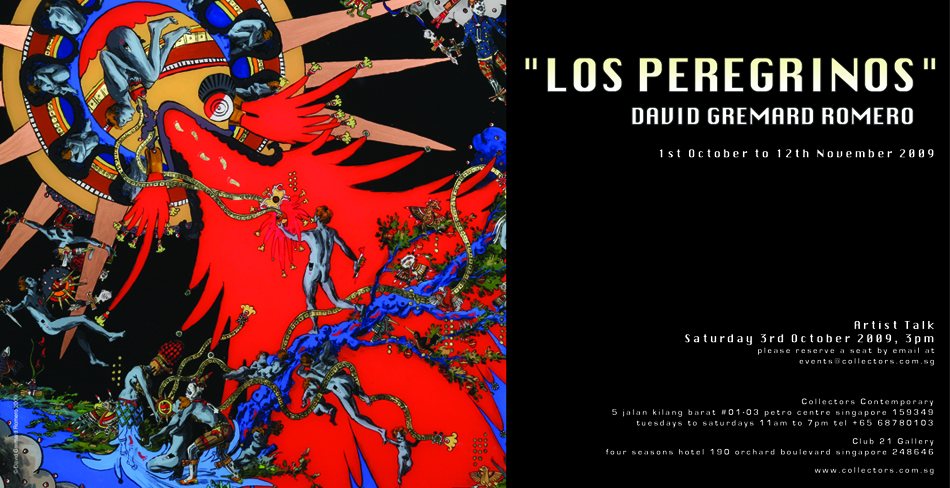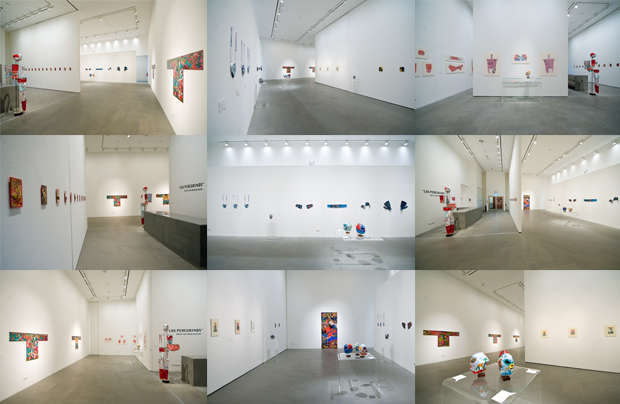 Collectors Contemporary presents Los Peregrinos (The Pilgrims), a solo show by David Gremard Romero. This exhibition and sale will run concurrently at Collectors Contemporary and the Club 21 Gallery.
David Gremard Romero's paintings and drawings are redolent of Classical allegory and executed in a technique that recalls the late Renaissance and the subtle nuances of Mannerist portraits. Throughout much of his body of work, figures, or characters, are depicted in the throes of transfiguration.
The unifying themes behind his current series are Lucha Libre (Mexican Free Wrestling) and the confluence of cultures brought about through conquest and emigration in the Americas, both ancient and modern. Gremard Romero's works deal with the syncretism of Lucha Libre costumes and pre-Hispanic and colonial mythology. He brings a contemporary Chicano perspective to colonial painting and the textile traditions of the Americas. More importantly, though, Gremard Romero addresses larger issues of multiculturalism, the shared and painful history of humanity, as well as the politics of identity.
"The central preoccupation unifying all my work is an engagement with the practice of the old masters, particularly those of the Baroque and Rococo periods. Their perfection of craft, their exploration of narrative modes, and their explicit connection to history and politics are a source of continuing fascination and inspiration to my work. Embedding contemporary iconography and themes in a classical figurative craft, I seek to tease out the hidden relationships and continuities between classical art and current culture."