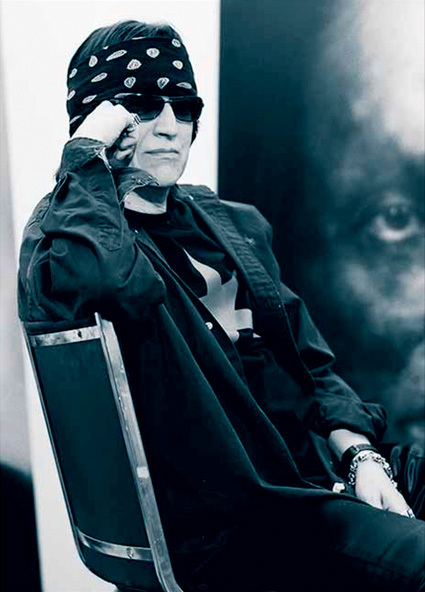 Gottfried Helnwein
b. 1948 Vienna, Austria
1973 Academy of Visual Art, Vienna, Austria
Lives and works in Ireland and Los Angeles

Through disturbing images from the Holocaust, Catholicism and unsettling sequences of nightmares, Gottfried Helnwein's works represent the real-time Armageddon of our civilisation.

According to Helnwein, real art is 'self-evident, intense, challenging, enchanting, exciting and unsettling', thus it can create an emotional impact regardless of the socio-cultural background of individual viewers. Helnwein's highly thematised and staged images of violence, pain and indifference constantly remind us of the condition of our culture and civilisation - materialism, consumerism and decadence.

Although Helnwein's work is rooted in the legacy of German expressionism, he has absorbed elements of
American pop culture. In the 70s he began to include cartoon characters in his paintings. In several
interviews he claimed: "I learned more from Donald Duck than from all the schools that I have ever attended." Commenting on that aspect in Helnwein's work, Julia Pascal wrote in the New Statesman: "His early watercolor Peinlich (Embarrassing)- shows a typical little 1950s girl in a pink dress and carrying a comic book. Her innocent appeal is destroyed by the gash deforming her cheek and lips. It is as if Donald Duck had met Mengele".

Living between Los Angeles and Ireland, Helnwein met and photographed the Rolling Stones in London, and his portrait of John F Kennedy made the front cover of Time magazine on the 20th anniversary of the president's assassination. His Self-portrait as screaming bandaged man, blinded by forks (1982) became the cover of the Scorpions album Blackout. Andy Warhol, Muhammad Ali, William Burroughs and the German industrial metal band Rammstein posed for him; some of his art-works appeared in the cover-booklet of Michael Jackson's History album . Referring to the fall of the Berlin Wall Helnwein created the book Some Facts about Myself, together with Marlene Dietrich. In 2003 he became friends with Marilyn Manson and started a collaboration with him on the multi-media art-project The Golden Age of Grotesque and on several experimental video-projects. Among his widely published works is a spoof of the famous Edward Hopper painting Nighthawks, entitled Boulevard of Broken Dreams. This painting also inspired the Green Day song of the same name

Examining his imagery from the 1970s to the present, one sees influences as diverse as Bosch, Goya, John Heartfield, Beuys and Mickey Mouse, all filtered through a postwar Viennese childhood. 'Helnwein's oeuvre embraces total antipodes: The trivial alternates with visions of spiritual doom, the divine in the child contrasts with horror-images of child-abuse. But violence remains to be his basic theme, - the physical and the emotional suffering, inflicted by one human being unto another.'.

Helnwein's works are in public collections of prestigious art institutions such as the Museum for Contemporary Art, Vienna, Museum Ludwig, Cologne, San Francisco Museum of Modern Art and Smithsonian Institution, Washington, DC to name a few.

In 2009 Gottfried Helnwein was awarded the highly prestigious Steiger Art Award at the Bochum Jahrhunderthalle (Century Hall) in Germany.

"When I look at a work of Art I ask myself: does it inspire me, does it touch and move me, do I learn something from it, does it startle or amaze me - do I get excited, upset? And this is the test any artwork has to pass: can it create an emotional impact on a human being even when he has no education or any theoretical information about art? I¡¯ve always had a problem with art that can only be understood by somebody with a degree in art history, and I have a problem with theories. Most of them are bullshit anyway. Most critics and theorists have little respect for art and artists, and I think the importance of theory in art is totally overrated. Real art is self-evident. Real art is intense, enchanting, exciting and unsettling; it has a quality and magic that you cannot explain. Art is not logic, and if you want to experience it, your mind and rational thinking will be of little help. Art is something spiritual that you can only experience with your senses, your heart, your soul."
14 artworks