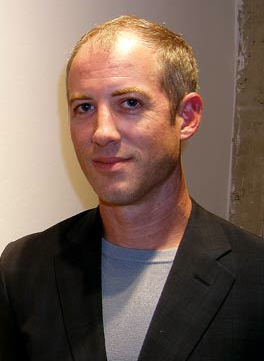 Stephen Giannetti
b. 1966 San José, California, USA
1994 Skowhegan School of Painting and Sculpture, Skowhegan, Maine
1992 MFA University of California, Irvine, CA
1989 BA University of California, Davis, CA
Lives and works in California

Colour is the subject matter for Giannetti. With the structure of the grid, the six overlapping layers of thousands of hand-painted circles create a unique illusion of space called 'colourfield', as in his Chromascene series (2004).

According to the artist, his ambition is to define the function of painted space and explore what a painting can be and should be; Giannetti insists that 'most importantly, painting should be visually interesting, and it should be about seeing, not about reading.'

Giannetti's works have been shown internationally, including Young Eun Museum of Contemporary Art, Kwangju City, Korea. Apart from the commission from Hotel Seneyan, Jakarta, Indonesia and Police Department, Davis, CA, his paintings have been collected by Richard L. Nelson Gallery & Fine Art Collection, University of California, Davis, CA and Adobe Systems Inc. in San José, CA.


2 artworks