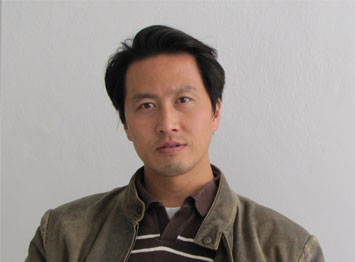 Wonkun Jun
b. 1970, Seoul, South Korea
Chugye - Academy of Fine Arts, Seoul
Hochschule für Bildende Künste Braunschweig, Braunschweig
Kunstakademie, Düsseldorf
Lives and works in Germany

Colour, nothing but colour, is the fundamental element of my art – Wonkun Jun

Wonkun Jun creates paintings that result from an expression of feeling and a particular process of making. The artist works to explore and express a highly personal emotional sensibility. Jun's practice involves moderation, contemplation and the creation of atmosphere.

For Jun, the brushstroke is a vehicle for a humanistic gesture, in opposition to industrial or synthetic objectivity. The artist focuses on a minimal abstract aesthetic, reducing the image to a composition of essential elements, including dots, lines and linear borders. Within a visual language characterised by simplified forms, Jun uses colour to explore and express a range of emotions. The artist explains, "Like a letter written in familiar handwriting, my wish is to fill them with my own colours and symbols and to make a deep impression on the audience, conveying warm words of comfort."

Harmony and quietude permeate the artist's unique vocabulary. Jun's technique involves applying 20-30 water thin layers of acrylic paint, resulting in forms that suggest depth and appear illuminated. Working primarily with red, yellow, blue, and green the artist creates unexpected effects. The surface colours are indistinct, while the sides of the canvas reveal separate drips of intense brightly coloured hues.

In 2001 the artist worked under the celebrated abstract painter, Swiss artist Helmut Federle. Jun has been included in exhibitions in Singapore, Europe and Korea. His work can be found in public museum collections including the Museum Kunstpalast, Düsseldorf and Kunstsammlung Nordrhein-Westfalen, Düsseldorf.
2 artworks