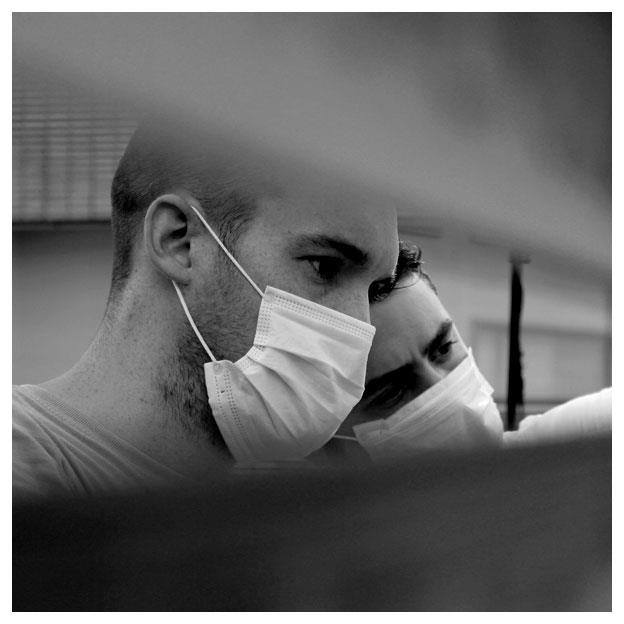 STATIC
STATIC is the creative output of London-based image makers Tom Jackson and Craig Evans. Working out of their studio in the East end of London, the duo employ myriad techniques including painting, screenprinting, drawing, stenciling and spray-painting. Inspired by popular culture, music, film and current events, their fresh ultra contemporary works are instantly recognisable for their polished graphic style, explosive electric colours and layered imagery.

Combining backgrounds in Graphic Communication and Fine Art, STATIC complete every stage of their creative process in house and by hand: from cutting large-scale intricately detailed stencils by hand, to hand drawn typography. They take an innovative approach to materials and have previously employed such diverse constituents as wood, metal, Perspex, glass, diamond dust, resin, ash and magnesium powder. Since 2010, they have been working with transparency and texture by layering images using glass and aluminum. Their layered glass pieces change according to the position of the viewer, enacting a dynamic interplay between shape, colour and perspective. Their practice involves deconstruction and reconfiguration. By breaking down elements and layering them in unexpected ways, the artists create artworks that unfold before the eyes of the viewer.

STATICís works are timely and respond to the contemporary moment. Whether they are celebrating the Diamond Jubilee in Lovely Jubilee, exploring the commodification of art and fashion in Luxury Vandals, creating street pieces around the world using their Chinook Chandelier motif, or mischievously depicting royal graffiti in Queen Vandal, STATIC sample the icons and motifs of contemporary popular culture with rebellious humour and wit. Demonstrating their skill as colourists, bright hues are overlaid and juxtaposed: imbuing shapes with energy and making colours pop.

Jackson and Evans have collaborated since 2006. They have exhibited internationally: in the US, UK Japan, Italy, India and Moscow. Their work is held in the private collection of the Saudi Arabian Royal Family.
41 artworks