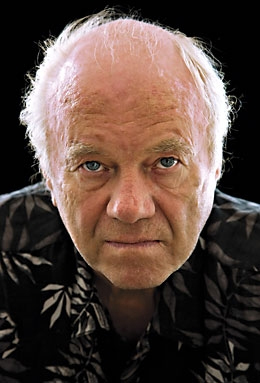 James Rosenquist
b. 1933 Grand Forks, North Dakota, USA
1955 Arts Students League, New York
1954 BA University of Minnesota
Lives and works in Aripeka FL, USA

As one of the central figures of the American Pop art movement in the 1960s, James Rosenquist embraced not only subject matters of mass culture but also its technique and visual mechanism. His experience as a commercial billboard and mural painter differentiated his works from those of other Pop artists. With the structure of a billboard on which disparate images from various advertisements are juxtaposed, fragmented images in Rosenquist's works in their gigantic scale are often indiscernible at first glance.

Space Dust, 1989 is a part of the Welcome to the Water Planet series, which originated from his time working at the Tyler Graphics Studio in New York in the 1980s, where he explored making paper pulp works and other new materials and techniques. A celebration of life and planet earth, the series is also a warning of the consequences of man´s effects on it: the natural world poised against that of man and machine and their destructive tendencies.

Rosenquist has numerous retrospectives at museums worldwide and his works are held in public collections of numerous museums including the Guggenheim Museum, the Museum of Modern Art, New York, USA, the Tate Modern, London, UK, Museo Thyssen-Bornemisza, Madrid, Spain and the Museum Für Moderne Kunst, Frankfurt, Germany.


2 artworks