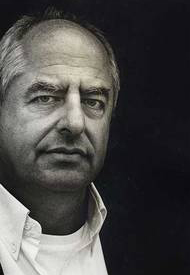 William Kentridge
William Kentridge (born 28 April 1955) is a South African artist best known for his prints, drawings, and animated films. These are constructed by filming a drawing, making erasures and changes, and filming it again. He continues this process meticulously, giving each change to the drawing a quarter of a second to two seconds' screen time. A single drawing will be altered and filmed this way until the end of a scene. These palimpsest-like drawings are later displayed along with the films as finished pieces of art.
Kentridge was born in Johannesburg to Sydney Kentridge and Felicia Geffen. Both were advocates (barristers) who represented people marginalized by the apartheid system.
As someone who is ethnically Jewish in South Africa, Kentridge has a unique position as a third-party observer. His parents were lawyers, famous for their defence of victims of apartheid. Kentridge developed an ability to remove himself somewhat from the atrocities committed under the later regimes. The basics of South Africa's socio-political condition and history must be known to grasp his work fully, much the same as in the cases of such artists as Francisco Goya and Käthe Kollwitz.
Kentridge is of expressionist lineage: form often alludes to content and vice versa. The feeling that is manipulated by the use of palette, composition and media, among others, often plays an equally vital role in the overall meaning as the subject and narrative of a given work. One must use one's gut reactions as well as one's interpretive skills to find meaning in Kentridge's work, much of which reveals very little actual content. Due to the sparse, rough and expressive qualities of Kentridge's handwriting, the viewer sees a sombre picture upon first glance, an impression that is perpetuated as the image illustrates a vulnerable and uncomfortable situation.
Kentridge has continued to develop works in various media. Despite his ongoing exploration of non-traditional media, the foundation of his art has always been drawing and printmaking.
In 1987, he began a group of charcoal and pastel drawings based, very tenuously, on Watteau's Embarkation for Cythera. These extremely important works, the best of which reflect a blasted, dystopic urban landscape, demonstrate the artist's growing consciousness of the flexibility of space and movement.
Kentridge's works are included in the following permanent collections: Honolulu Museum of Art, the Kalamazoo Institute of Arts, the Museum of Contemporary Art, Chicago, the Museum of Modern Art (New York), and the Tate Modern (London). An edition of the five-channel video installation The Refusal of Time (2012), which debuted at documenta 13, was jointly acquired by the Metropolitan Museum of Art in New York and the San Francisco Museum of Modern Art. In 2015, Kentridge gave the definitive collection of his archive and art films, videos and digital works to the George Eastman Museum, one of the world's largest and oldest photography and film collections.
2 artworks