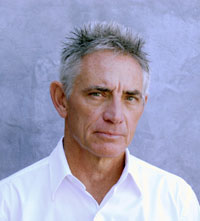 Charles Arnoldi
b. 1946, Ohio, USA
Art Centre, Los Angeles
Chouinard Art Institute, Los Angeles
Lives and works in the USA

Everything with me has been intuitive and visual – Charles Arnoldi

Charles Arnoldi is a master of abstraction. The southern Californian artist's career spans over forty years and includes painting, printmaking and sculpture. With work included in approximately forty permanent museum collections, Arnoldi is a prolific and critically acclaimed artist. He is continually exploring the potential of his chosen medium and the development of his own unique language of visual expression.

Arnoldi's work involves an intuitive use of colour, an intellectual approach to composition and an expressive and emotional engagement with surface. His paintings contain their own logic, often exhibiting an internal structure where colour and form conspire to create energy, light, balance and space. For Arnoldi, the process of making art is defined by possibility. He is compelled to continually develop new approaches to painting, resulting in a rich and invigorated body of work.

Arnoldi creates artwork of visual force and beauty. Often immersive in scale and powerful in colour, his paintings elicit a sensory response from the viewer. The energy and physicality of the work is revealed in the richly layered, scraped surfaces of paint; irregular shaped canvases and paneled compositions. There is no trace of the imitative or derivative in Arnoldi's practice. The artist has developed a language uniquely his own, mastered over a lifetime in celebrated bodies of work that include Sticks, Chainsaw, Ellipses, Grids, Arcs, Windows and Case Study.

Work by Arnoldi can be found in many public museum collections including the Museum of Modern Art, New York; Metropolitan Museum of Art, New York; Smithsonian American Art Museum, Washington DC; Whitney Museum of American Art, New York; Guggenheim Museum, Bilbao and the National Gallery of Sydney, among others.


2 artworks