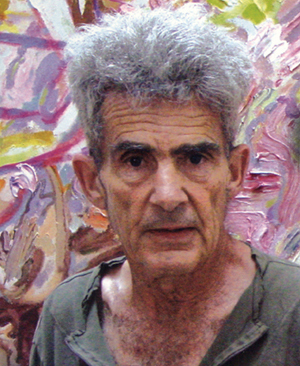 Larry Poons
Lawrence M. "Larry" Poons (born October 1, 1937) is an American abstract painter.
Associated with Op Art, Hard-edge painting, Color Field painting, Lyrical Abstraction and Abstract Expressionism, Poons has challenged critical expectations throughout his career, transitioning through several distinct phases of work.
Poons first rose to prominence in the 1960s with paintings of circles and ovals on solid¡ªoften brilliantly colored¡ªbackgrounds. These works, often referred to as the Dot paintings conveyed a sense of movement, and were categorized as op art.
Although he exhibited with optical artists in 1965, by 1966 he had moved away from the optical art towards looser and more painterly abstract canvases. Though many people criticized Poons's move away from the dot paintings, Frank Stella championed his progress, leaving a congratulatory note for the artist at his gallery.[5] His painting, Brown Sound was featured on the cover of the Summer issue of Artforum in 1968. Poons was included in Emile de Antonio's 1972 documentary Painters Painting: The New York Art Scene 1940-1970 and he was the subject of Hollis Frampton's 1966 film, Manual of Arms. Poons is also included in Andy Warhol's 1967 Portrait of the Artists.
A documentary on Poons's work, titled Larry Poons: On Making Art: ART/New York No. 51, was made in 1999 by videographer Paul Tschinkel.[7] Poons is also a feature figure, along with Jeff Koons, Gerhard Richter, and Njideka Akunyili Crosby in Nathaniel Kahn's 2018 documentary, The Price of Everything, which debuted at Sundance Film Festival and was acquired by HBO.
Larry Poons has works in dozens of collections throughout the world, including the Albright-Knox Art Gallery in Buffalo, the Art Institute of Chicago, the Cleveland Museum of Art, the Hirshhorn Museum and Sculpture Garden, the Metropolitan Museum of Art, the Museum of Contemporary Art, Los Angeles, the Museum of Fine Arts, Boston, the Museum of Fine Arts, Houston, the Museum of Modern Art in New York, the Philadelphia Museum of Art, the Santa Barbara Museum of Art, the Smithsonian American Art Museum in Washington, D.C., the Tate in London, the Van Abbemuseum in Eindhoven, Netherlands, the Whitney Museum of American Art in New York, and the Yale University Art Gallery in New Haven, Connecticut, among other institutions.
1 artworks